Picasso Lite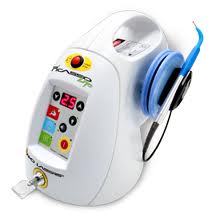 Laser Dentistry has rapidly emerged with a new level of quality care for patients. Features like the ability to perform more procedures in less time without sacrificing patient care and comfort are an added advantage. A wide range of dental practice specialties and their patients benefit from laser treatment. picasso_liteFor instance, lasers can be used around metal crowns, on patients with pacemakers and braces, on teeth with metal amalgams, and in procedures involving bone structure – all with few negative effects. Patients report that laser treatments are much gentler than those administered with an electrosurge and result in little or no recession, swelling, less necrosis, and a quicker post-op healing process. Additionally, laser surgery is substantially less invasive therefore generates less bleeding during the procedure. Lasers are predictable, precise and produce a reduction in the need for suturing.
Caries ID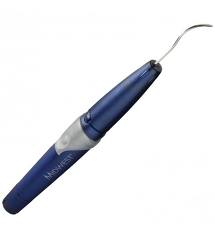 One of the most important things we do for our patients is identify and fill cavities. Since any spot of decay can threaten the integrity of an entire tooth, detection is key to preventing a host of potential problems. Lengthy poking and probing sessions have been an acceptable, if not very comfortable, part of dental exams for years. However, such methods of decay detection are only 50 to 75-percent successful. Cavities can hide along fissure lines or inside biting and occlusal surfaces. Further, mechanical exploratory methods are limited to finding only those cavities that are equal to or larger than the probe head. To make the process more comfortable and comprehensive, we use Caries ID, a revolutionary handheld device that utilizes LED and fiber optic technologies to find cavities in the earliest stages.
The Caries ID handpiece contains three separate fibers: a receiving fiber, a green indicator fiber, and a red indicator fiber. The first fiber collects light from the tooth, comparing the reflection against a healthy, baseline reflection. caries idThe second fiber emits a green light, indicating healthy tissue. If the Caries ID detects any demineralization or decay, the red light illuminates and alerts the doctor of the change in tooth structure. Not surprisingly, this technology quickly and precisely identifies even the tiniest bit of decay. This means shallower, simpler fillings, preserving more tooth structure, and providing a specific means of monitoring suspicious areas. No x-rays are required with Caries ID, so patients do not have to worry about radiation exposure.
Planmeca 3D Cone Beam Xray Unit
We have a state of the art x-ray unit that we use to image the teeth, bone, sinuses and supporting structures.  The Cone Beam CT is great for checking thejaws to see if there is sufficient bone for implant placement; looking at roots of the teeth for fractures and abscesses.  This 3D x-ray can also be used to look for cyst and tumors of the jaws.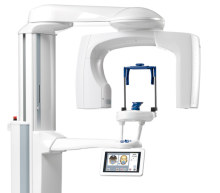 Get in Touch
Text or Call to schedule an appointment:
(937) 848-7741
4291 Sugarcreek Dr
Bellbrook, OH 45305
Business Hours
Monday – Thursday
8am – 4:30pm
Friday –  Sunday
Closed